Verity Audio has been designing and building finely-crafted and musically involving loudspeakers for nearly 20 years and in 2017 introduced their Monsalvat Series electronics. Located in Quebec, Canada, co-founders Julien Pelchat and Bruno Bouchand have combined their love of music with their expertise in design to bring the Verity Audio line of loudspeakers and electronics to music lovers around the globe. High Fidelity Services is proud to present these Canadian masterpieces to the ears and eyes of the United States.
Extended Range "eXR" Line Speakers
Sarastro IIS
The Sarastro IIS, like its big brother the Lohegrin IIS, belongs to the Verity's eXR extended-range loudspeaker line. The Sarastro IIS features two separate cabinets: an upper and a lower loudspeaker module. The upper module houses a Verity pure aluminum ribbon tweeter and a wide-bandwidth midrange. The lower module holds a state-of-the-art 11-inch woofer tuned in a fourth-order Bessel enclosure. The two modules unite to form an extended-range reference loudspeaker.  The cabinets are constructed according to proprietary asymmetrical reinforced technology that enhances the sonic homogeneity and musical image stability. It's the culmination of years of experience in acoustic engineering and in listening skills. The isolation system consists of a thick aluminum platform that has been specially treated and damped to assure a high degree of energy control and a rock solid mechanical reference. It leads to a precise and very well defined image and soundstage coherence.
Those who love the exquisite midrange of the Main Line loudspeakers will recognized the same qualities in the Sarastro IIS but with stronger dynamics and higher sense of effortless sonic performance. The ribbon tweeter integration with the midrange driver is extremely homogeneous and gives to the Sarastro IIS an incredible sense of unlimited bandwidth and coherence. The lower module has been designed to work as an in-room quasi-third-order smooth-slope bass generator. It allows an outstanding bass response down to the low 20 Hz.
The Sarastro IIS is finished with a long lasting high-gloss polyester lacquer specially imported from Italy and formulated to be associated with the finest luxury furniture standards. The entire loudspeaker finish process ensures that all Verity Audio products embody absolute quality and the most rigorous standards of workmanship.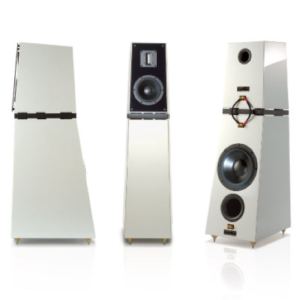 Sarastro IIS Specifications
Design:

 

3 Way
Bandwidth:

 

20 Hz – 60 kHz +/- 3 dB
Recommended Amplifier Power:

 

8 – 100 watts
Impedance:

   

8 Ohms nominal (4 Ohms Minimum)
Sensitivity:

 

86 dB/1 Watt
Size (H x W x D):

   

47.5" x 14.0" x 20.0"
Weight:

   

150 lb. each; 470 lb. per pair packed

Standard Finishes: Satin White, Satin Black

Premium Finishes: High Gloss Silver, Makore, Quilted Big Leaf Maple
Lohengrin IIS
From any perspective, the Verity Audio Lohengrin IIS is an exquisite loudspeaker that will offer a breathtaking sense of musical effortlessness and sonic realism. It is a luxurious piece of state-of-the-art audio engineering and furniture/speaker cabinet construction that represents for the music lover an investment that will yield years of enjoyment. The result of over twenty-five years of accumulated painstaking research and development, the Lohengrin IIS's remarkable success as a loudspeaker is a tribute to the prowess of the Verity Audio engineers and acousticians. 
The Verity Audio Lohengrin IIS proudly and genuinely ranks among the most eminent loudspeakers available today, while achieving levels of musicality that few can match. The Lohengrin IIS reproduces faithfully the full dynamic scale of voice or instrument while maintaining realistic dimensions. Top-to-bottom frequency information is effortlessly merged, thus producing an astonishing levels of sonic intelligibility. As a dynamic, wide-bandwidth and efficient loudspeaker, the Lohengrin IIS will bring true realism to the listening experience and delivers a tremendous amount of detail, regardless of the recording.
The Lohengrin IIS is comprised of two cabinets separated by a suspended platform. The upper cabinet houses proprietary drivers in the form of Verity ribbon tweeter, a wide-bandwidth Verituy midrange, and a dynamic Verity mid-bass woofer. The lower cabinet harbors a generous and a unique state-of-the-art woofer calculated for high-performance home reproduction. The two modules unite to form an extended-range reference loudspeaker system. A proprietary asymmetrical cabinet bracing technology allows each Verity's high-quality drivers to fully merge in an exceptional level of continuity, musicality and image stability. This technology has been inherited through years of devoted research, craftsmanship and dedicated listening.
The Lohengrin IIS is finished with a long lasting high-gloss polyester lacquer specially imported from Italy and formulated to be associated with the finest luxury furniture standards. The entire loudspeaker finish process ensures that all Verity Audio products embody absolute quality and the most rigorous standards of workmanship.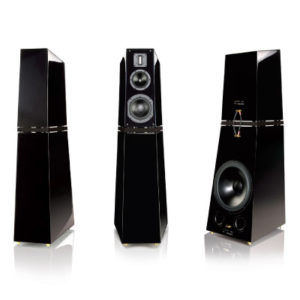 Lohengrin IIS Specifications
Design:

 

4 Way
Bandwidth:

 

15 Hz – 60 kHz, +/- 3 dB
Recommended Amplifier Power:

 

5 – 999+ Watts
Impedance:

   

8 Ohms nominal (4 Ohm Minimum)
Sensitivity:

 

95 dB/2.83 Vms at 1 Meter on Axis
Size (H x W x D):

   

60.0" x 19.0" x 23.5"
Weight:

   

250 lb. each; 750 lb. per pair packed

Standard Finishes: High Gloss Black

Premium Finishes: High Gloss Silver, Makore, & Quilted Big Leaf Maple
Monsalvat System
Based upon the widely acclaimed success of the Verity Audio reference loudspeaker the Lohengrin, which was originally introduced in 2001and to this day remains a popular ultra-high performance speaker for music lovers world wide, Verity Audio began taking note that some Lohengrin owners were expressing the desire for an even larger, and even yet higher performance Verity loudspeaker. The impetus behind many of these requests often is based upon very large listening rooms and/or a desire to listen to music at very high SPL levels. Particularly when listening to large symphonic recordings, the Verity Audio team agrees that a larger system would do an even better job reproducing the scale of an orchestra. Verity Audio's founders, Julien and Bruno, state: "As audio enthusiasts ourselves we've found this challenge to be quite thrilling, and we began focused research on the best solution to fulfill these requirements in 2009. Verity Audio is extremely proud to introduce the culmination of this work and our greatest effort… the new Monsalvat Loudspeaker System. We believe that the Monsalvat represents the finest loudspeaker system on the market today."
System Description/Overview
Verity Audio's comprehensive research and design process quickly resulted in the conclusion that their "no limits" Monsalvat system must be built with multiple, independent modules. The Monsalvat is therefore a complex system built around two main tower units, each tower itself comprised of a mid-treble module and a low-midrange module. The two main towers are then partnered with two separate low-bass towers, each low-bass tower itself being comprised of four individual woofer modules. To then allow these individual modules to all make music as one, a unique active crossover module completes the system. The active crossover is installed between the pre-amplifier and power amplifiers. With the Monsalvat system six independent channels of amplification are required to operate the system: yes, that's three stereo or six mono amplifiers! "Why," one may ask, "no powered subwoofer?" Verity Audio has found through many years of research that it's been consistently demonstrated that the best results in multi-amplified systems are always reached when the same amplifier is used throughout the system. For this reason, the low-bass towers of Monsalvat are not amplified independently of the main loudspeakers.
The Main Towers:  The two modules of the main towers combine to form a tower that is about the same height as the Verity Audio eXR Line Lohengrin IIS. The cabinet design and construction is, however, quite different from Lohengrin IIS. The Monsalvat main tower modules are deeper than the Lohengrin II, and instead of widening at the back to accommodate a large woofer they taper and narrow at the rear. This shape contributes to the exceptional sound staging capabilities of the system. Furthermore, to make this slim, elegant tower properly stable it sits on a thick and heavy base of aluminum with massive, adjustable spiked feet.
Mid-Treble Module:  The mid-treble module contains two drivers: a ribbon tweeter and a midrange driver. The tweeter is Verity Audio's own pure ribbon design that covers a frequency range of 6 kHz to 60 kHz. The midrange driver is also a Verity Audio proprietary design based upon the unit designed for the eXR Line Sarastro IIS. The Monsalvat midrange unit differs from the Sarastro IIS unit mostly in sensitivity, as the Sarastro IIS midrange offers a sensitivity of 93 dB @ 1w/1m, while the Monsalvat midrange has been reworked to offer an incredible 99 dB @ 1w/1m. This mid-treble module, in fact, has the only passive crossover elements in the entire system. Due to the proprietary driver and cabinet designs the team at Verity was able to keep these components to an absolute minimum and of the absolute highest quality; furthermore these crossover elements are located in an isolated compartment for ease of service should any component updates become available.
Low-Midrange Module:  The low-midrange module includes an array of four low-mid drivers similar those used in the eXR Line Lohengrin IIS. This array allows their combined sensitivity to match the ultra high 99dB sensitivity (especially for dynamic drivers) of the proprietary mid-treble module. These four drivers cover the range of about 60 Hz to 500 Hz in a sealed enclosure. Use of these very powerful drivers in such array allows for cone displacement (which often causes distortion levels to rise) to remain very small, even at extreme output levels.
Woofer Towers:  Each of the Monsalvat system woofer towers is comprised of four individual woofer modules. The individual woofer modules contain a fifteen inch driver based upon the proprietary design employed in the eXR Line Lohengrin IIS. The individual modules are stackable/connectible, which means they could be fully independent of each other. The modules and woofer towers are specifically designed for installation facing a corner of the room, thus using an acoustic approach known as an "infinite horn". The stacked/connected modules can be installed vertically in room corners or horizontally along the floor/wall interface. Each module can be used as either a ported or a sealed enclosure depending on individual room acoustics, and towers of two modules per channel may be used in smaller rooms should this be necessary. As with Monsalvat's low-mid modules, each of the drivers used in these towers are very powerful units on their own; using them in an array allows for extremely high sound pressure levels with minimum cone displacement, and thus, lower distortion. These towers cover a range of 15 Hz to 60 Hz.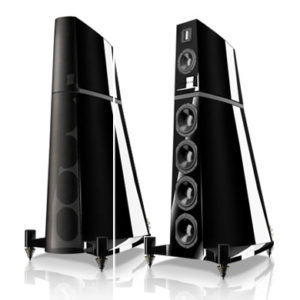 Monsalvat Specifications
Design:

 

4 Way (2 Towers, 2 Bass Units, External Crossover)
Bandwidth:

 

15 Hz – 60kHz
Recommended Amplifier Power:

 

5 – 999+ watts
Impedance:

   

6 Ohms nominal
Sensitivity:

 

99 dB /2.83 Vms @ 1 Meter On Axis
Dimensions (H x W x D):

 

61.0" x 23.4" x 44.3" (Tower); 90.0" x 28.0" x 31.8" Inches (Base Unit)
Weight:

 

Plenty Heavy

Standard Finishes: High Gloss Black

Premium Finishes: By Request